In December 2018 we shared with all of you that we will remain a
partner of the SMITE Pro League
for its sixth season. With the end of the free agency period a few days ago, our roster for Season 6 of the SPL is now complete. Please give a warm welcome to the players that will represent SK on the Battleground of the Gods going forward.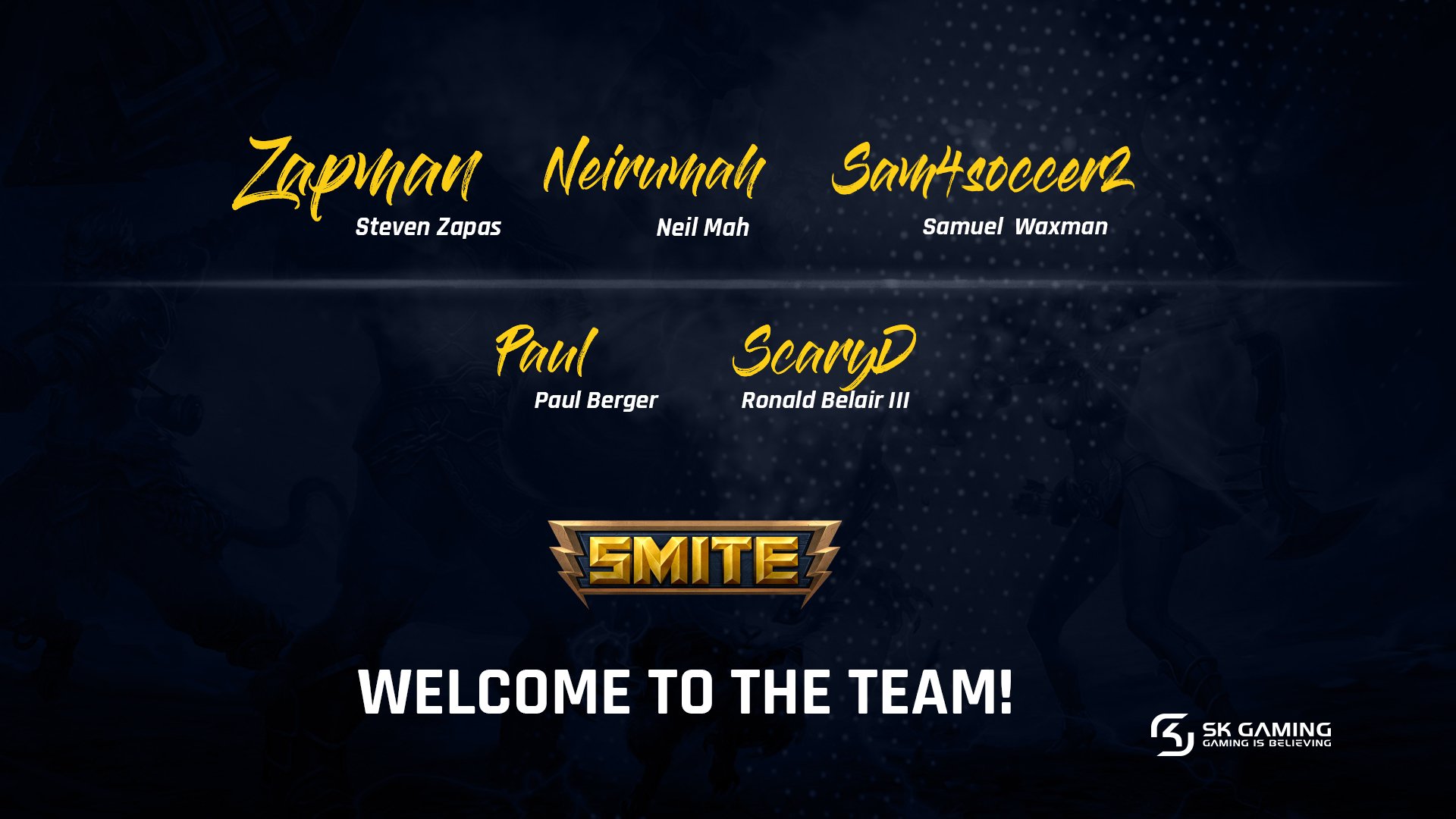 SK SMITE
now is:
Steven 'Zapman' Zapas
- Hunter -
Facebook
,
Twitter
,
Instagram
,
Twitch
,
Youtube
Neil 'Neilmah' Mah
- Support -
Twitter
,
Twitch
Paul 'Paul' Berger
- Mid -
Twitter
,
Twitch
Samuel 'Sam4soccer2' Waxman
- Jungle -
Twitter
,
Twitch
Ronald 'Belair' Belair
- Solo -
Twitter
,
Twitch
Fans of the game can already tell that we have signed the former Trifecta roster which finished 3rd-4th at the last SMITE World Championship in November 2018 and are led by one of the longest standing competitive SMITE players in the face of Zapman. We're very excited to work with a team that already has great synergy in place and can only improve on the results from last year. With their upcoming move to a gaming house in Atlanta, GA for the SPL's first entirely LAN season we believe the only way is up.
With this reveal we are also saying goodbye to our previous roster of Lawbster, Funballer, Faeles, Duck3y and HalfDevil. To those of them who will continue in the SPL we can't wait to meet them on the battleground and to the rest we wish good luck with what's next in life for them. Thank you for representing SK and giving your best during 2018.
Make sure to follow our new SK family members on social media and look forward to their move to the Atlanta area next month when the preseason of the league will commence.
Irena fell in love with esports when she watched the Season 1 LoL Championship. Nowadays she enjoys superheroes, fantasy books and Asian food.
SHOP
CHECK OUT
THE NEW JERSEY