League of Legends
The competition in LEC continues for us with a match against Misfits, followed by the German derby with Schalke 04. Both of them defeated us in the first half of the split so it's time for revenge!
22nd February, 21:00 CET -
SK Gaming vs Misfits
23rd February, 20:00 CET -
SK Gaming vs Schalke 04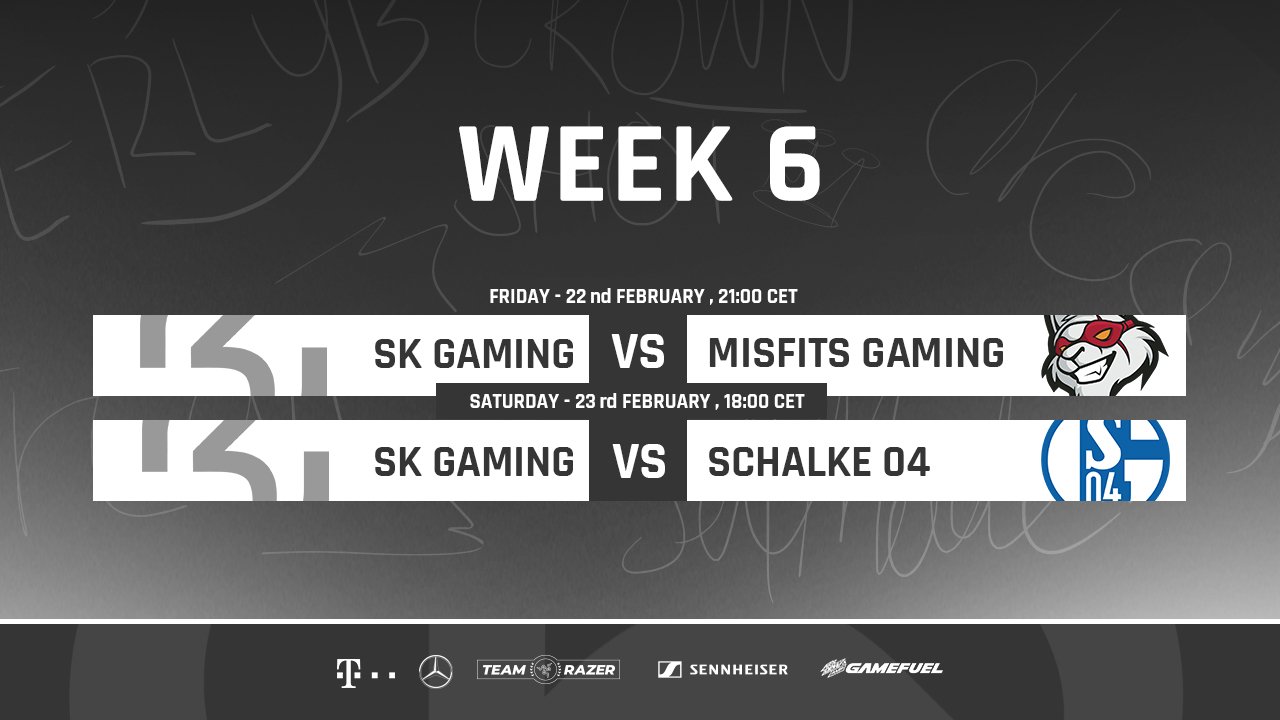 SK Prime are currently on top of the world in the German speaking region and they will look to cap it off with their first trophy this Sunday at the Premier Tour Bonn Final. They'll be spending the time until then bootcamping in FC Koeln's facilities here in Cologne, Germany, and of course playing their weekly games in the ESL Meisterschaft and Summoner's Inn League.
Summoner's Inn League Week 4 - 19th February, 22:00 CET - SK Prime vs Mousesports (Best of 1)
ESL Meisterschaft Week 5 - 20th February, 19:30 CET - SK Prime vs BloodRain Gaming (Best of 2)
Premier Tour Bonn Final - 24th February, 15:00 CET -
BIG vs SK Primer
We win ESLM match vs Panthers 2-0

I just want to take a moment to commemorate #SKPRIME 's achievements:

1st in Premier tour points
1st in SINN League
1st in ESLM

A lot of people rated us low, but we will continue to exceed expectations and work hard. #SKWIN

— Ram Djemal (@brokenshard) February 13, 2019
FIFA
A busy busy week in the Virtual Bundesliga is up ahead for our FIFA players. On Thursday they will be in Munich in order to play the featured match of the week on national television. On Saturday they will be attending FC Koeln's home game vs SV Sandhausen before facing the same opponent on the virtual pitch, followed by two more encounters.
21st February, 20:15 CET -
1. FC Köln vs Borussia Mönchengladbach
23rd February, 17:00 CET -
1. FC Köln vs Sandhausen
23rd February, 18:00 CET -
1. FC Köln vs Hannover 96
23rd February, 19:00 CET -
Eintracht Frankfurt vs 1. FC Köln
Irena fell in love with esports when she watched the Season 1 LoL Championship. Nowadays she enjoys superheroes, fantasy books and Asian food.
SHOP
CHECK OUT
THE NEW JERSEY