Dear SK fans and followers,
Another year is almost at an end and we wanted to take a moment to look back at all we have achieved during it, at the moments that made you roar in excitement and send us your love on social media, at the accomplishments and trophies we have added to our walls.
Here it is, our "short" list of notable SK Gaming moments in 2019:
League of Legends:
- We made our long awaited return in the top echelon of European League of Legends - the newly reorganised LEC - and got to
playoffs
in our first split back
- SK Prime finished second in
EU Masters Spring 2019
Clash Royale:
- Former World Champion
Sergio 'SergioRamos:)' Eduardo Ramos
joined our Clash Royale team
- We won WCG 2019 as part of Team West
- We became champions of
CRL West's Fall Season
FIFA:
-
DullenMIKE
became the youngest FUT Champions Cup winner after claiming the trophy in Bucharest
SMITE:
- We won the
Season 6 SMITE World Championship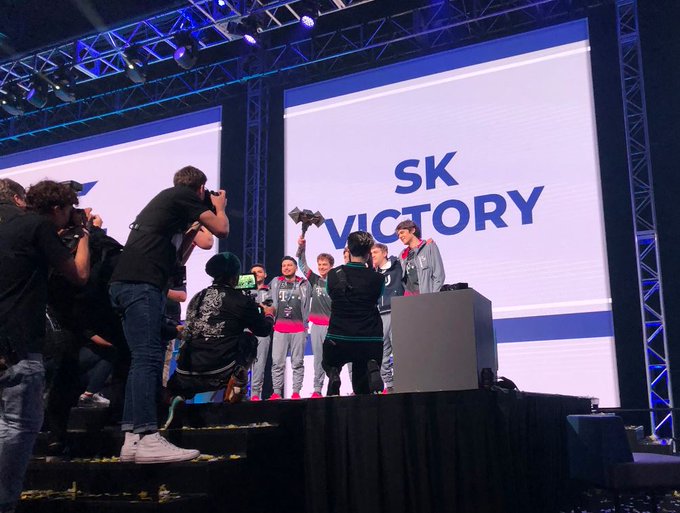 Partners & events:
- We welcomed
Mercedes-Benz, 1. FC Köln
and
Deutsche Telekom
as new SK Gaming shareholders
- We signed a plethora of new partnerships with
Western Digital
,
ARAG
,
HYLO
,
ORITY
,
Matrix
, and
OnePlus
and ran tens of activations with them
- We opened our state-of-the-art practice facility in our headquarters in Cologne, Germany and held our first viewing party there
- Once again we had a big presence at
Gamescom
, especially at the Magenta eTrophy competition organised by Deutsche Telekom
It's only fitting that we also take a moment to talk about some of our plans and goals for 2020:
- Expand our focus on mobile games; add another major esports title to our lineup of teams
- Further enlarge and develop our player facility in Cologne
- Continue our aim of improved physical and psychological health and nutrition for our players
We're happy with the strides we've made in 2019 and we'd like to thank all of you for the continued support! No matter which part of the world you come from, we hope you and your families are having a wonderful time during the holidays. As for us, we will quickly recharge and get back to work delivering you the entertainment and competitive prowess you've come to expect from SK Gaming!
Irena fell in love with esports when she watched the Season 1 LoL Championship. Nowadays she enjoys superheroes, fantasy books and Asian food.
SHOP
CHECK OUT
THE NEW JERSEY